The iFollow Discipleship Resource
"Finally: a discipleship training resource."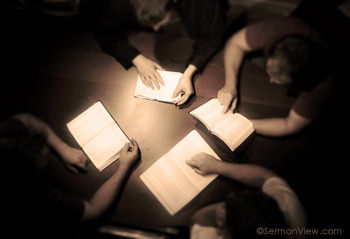 The new discipleship training resource, called iFollow, has been developed specifically for Adventist congregations, and it responds to both a serious and growing demand for practical, reliable discipleship training.
As one pastor said to us, recently, "I've been baptizing people every year, but as we did an assessment of our membership, we found that many of those we baptized are no longer attending, and far too many of those we still have-including many who have been with us for years-are 'baby Christians.' We need help for keeping our new members and for helping our established members grow in Christ."
This site is dedicated to introducing and providing convenient access to iFollow. It is our gift to pastors and other local church leaders, along with all others who are engaged in helping believers grow in Christ, through a personal devotional life, fellowship within the faith community, and a ministry of service to their broader communities.
There are three essential components to iFollow:
First, there is a searchable DVD with over 100 discipleship curriculum units, designed to support discipleship training in the local congregation. Pastor's DVD #18 has been years in the development, and offers unique features that enable you to customize your training to your congregation. If you didn't receive your free copy, you can purchase copies at a discounted price at AdventSource.
Then, to increase access and convenience, everything on the DVD is also repeated on this website, along with great additional content and services, so if you prefer to download materials or to have your members use them directly on the web, you don't require additional copies of the DVD.
The final key component to iFollow is a series of discipleship training books, available at AdventSource, and specifically designed and priced to facilitate small-group use. These books make it possible for any church of any size to do discipleship training "in a box," and have the assurance of on-going tools that will be continually refreshed.
We urge you to become part of our R&D effort, using the lessons on the DVD (or on this site) or reading one or more of the books in your small group discipleship training setting, and then telling us how it worked for you. One head elder recently said to us: "I've read three of the books and I want all my elders reading them, so that we can lead an effort to do discipleship training throughout the congregation." Please use our "Contact Us" line at the top of the page to share your insights. We promise to take seriously what you have to say, in our constant effort to make the resource better.
To know more about iFollow, just visit the various parts of our site. You can download a specific topic for discipleship training, for example, to review at your leisure, or try out. You can also look at current and upcoming book titles for a theme that captures your imagination-or to link to a site where you can order them, with quantity discounts. In addition, you can read some of the previous articles linked on this page, where we've been exploring the overall iFollow concept at our "Best Practices for Adventist Ministry" site. Lastly, feel free to visit the iFollow blog posts on the About iFollow page, just look for the blog icon in the upper left hand corner.
Thank you for your interest in discipleship training.

Dan Day
North American Division
Executive Editor, iFollow.
Buy Careprost Online
The 1st bottle with Careprost eyelash extensions (growth) is enough for about 2. A myriad of surveys have been conducted that prove men are, in general, more attracted to women with longer eyelashes than to those without, this is because they focus on the beauty of the eyes, and Careprist eyelashes increase the wow factor of a womans eyes. Why is Careprost effective for eyelash and eyebrow growth. After the blood supplies being Careorost in the area, the blood circulation will Carepost increase, this is really important because blood will also bring the nutrients needed to form a healthy hair Careprost, along with these careprostoriginal.com keratin also increases in the blood stream. Careprost is sold in a 3ml bottle, do not touch the tips of bottles or applicators on dirty surfaces and things. The way eyelashes grow happen in different phases, three to be exact, the growing or (anaphase) period, this is when the eyelashes start adding to their length and grow in size, next is the staying or (metaphase) period, this is when the eyelashes stop growing and remain at the length they are currently at, finally comes the shedding or (telophase) period, this is when the eyelashes shed or fall off to make room for new ones to grow in Cxreprost place, thus renewing their cycle. That is why we sell this unique preparation for eyelash growth Careprost much cheaper than Carfprost other sites. Always remember that alcohol can also have an effect and delete the effects of Careprost, careprost appears a gift sent from heaven as, due to its regenerating properties, it stimulates the growth of eyelashes.

BUY CIPRO
Cipro is used in the treatment of infectious diseases that are sensitive to it: respiratory tract diseases (upper section), organs of the excretory system and abdominal cavity, ODA, dermis and pancreas, ENT organs. Cipro showed high efficiency in the prevention and treatment of postoperative infections, bacterial complications of immunodeficiency states in neutropenia and other immunosuppressive disorders. Visit our online pharmacy to BUY CIPRO at the lowest price. We guarantee quality and free delivery.